Laney Badgley
Gender – Female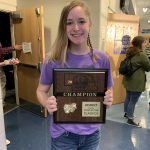 Position(s) Applying For – Junior Counselor (Open to anyone who has attended RYLA as a camper), Photographer (Open to anyone who has attended RYLA as a camper)
Year Participated in RYLA – 2019
Times You've Served as Junior Counselor – 0
Home Phone – 308.858.4509
Work Phone – [695]
Cell Phone – [683]
College Phone –
E-mail – [email protected]
City, State – Oconto, NE
School City, State – ,
Why do you want serve in the positions you've selected?
I went to RYLA last year and loved my experience there. I learned so much from it. I want to be able to help more students learn those skills like I did.
How has your experience as RYLA participante impacted you?
It impacted me greatly in school and out of school. I have been able to lead my class better as president. I also joined a youth leadership club in my county to help improve the communities in our county. I learned many things and I have used it a lot just in the couple months after camp.
How do you feel you can contribute and grow RYLA?
I want to be able to give advice to others and support to students wanting to grow their skills and their minds as they come to camp. I think I can help by passing the skills I learned to the next group.
[print_link]