Cooper Reichman Reichman
Gender – Male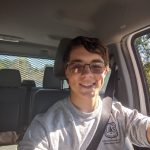 Position(s) Applying For – Leadership Team (Requires 2 years previous junior counselor experience), Junior Counselor (Open to anyone who has attended RYLA as a camper)
Year Participated in RYLA – 2017
Times You've Served as Junior Counselor – 2
Home Phone – 308.566.0161
Work Phone – [695]
Cell Phone – [683]
College Phone –
E-mail – [email protected]
City, State – Chappell, NE
School City, State – Chadron, NE
Why do you want serve in the positions you've selected?
I would like to serve as a leadership team member or junior counselor because my time spent at RYLA was life-changing for me. I learned a lot and I feel that I have grown vastly as a person from this opportunity that had been awarded to me. Plus junior counselors get the most time around the campers out of any of the staff and with that time you spend with the campers you build a connection and relationship with those people. Even though it may seem like a small one connection to some people, the connection I made with my JC during my camper year was amazing. The RYLA counseling staff is made up of a group of highly mature, understanding, and kind leaders. To continue to be apart of RYLA and be held at a high standard would be the greatest opportunity to help other campers to grow as people and leaders. I also know that I would continue to grow as a person from such a great opportunity.
How has your experience as RYLA participante impacted you?
My experience at RYLA impacted me greatly, I was thrown into a tiny camp in the middle of just about nowhere with a bunch of like-minded people for a week. You could say it was weird but also eye-opening. There was such a large variety of personalities there that it created a very diverse atmosphere. I gained many new skills when it comes to helping a team make decisions or coming up with an idea, there are no wrong answers, all ideas are worth mentioning because even the worst to you idea would end up being your team's best idea. I learned the importance of being kind to everyone no matter what. Just because you don't know someone at the moment doesn't mean that person couldn't be your new best friend, co-worker, boss, or maybe they won't have any relation to you after your first meeting. But they are still people and should always be treated as such. At this time in the world, I feel that a lot of people aren't very considerate of others and I am so glad that I was exposed to that and now work on that trait every day. I also learned that even if you don't necessarily agree with someone then that does not change how you should see each other. You and that person only have different opinions, that's it, nothing should change because life still goes on if they agree with you or not. Last of all the most important thing I learned at RYLA was that it's okay to be weak, either body or mind because there are always people there who will help if you need it, and my team at RYLA built a very strong connection together and I know that if I needed I could always get help from them. But even outside of my team I met a lot of amazing people and was very glad to have built a growing relationship with most of the people I had met there.
How do you feel you can contribute and grow RYLA?
I feel that I can contribute to RYLA by leading the youth that attends in a very positive direction through leading by example and through interactions of the people there. I do like learning through books and other academic outlets, but when it comes to a real-life application it doesn't work out very well. The best way to learn about life is living as much as it is about seeing it. Wherever I go and whatever I do, I try my hardest to be the kind of person that throws the trash on the sidewalk away, the guy that holds the door or lets the rest of the people in line go first. I always try to be the guy anyone can talk to about anything and have a relaxed conversation. So I hope that setting an example for the rest of the other campers would help me grow as well as help them grow and see what it could be like if you did at least one nice deed for someone, how that could grow into something great. I also feel that I could help any camper understand that it is okay to not be okay and that it is alright to fail and search for outside help. I had enormous amounts of help with personal struggles that were brought up during RYLA and it helped me grow as a person and I would love to help others as well. I also understand that I took a lot of responsibility the last year that I was a junior counselor and it was more than I was prepared for, but now I know the things that I can work on. This year I have collected myself personally in a way that will not conflict with camp and will coordinate much better with the Forest Service to smoothly provide and execute service projects. I would also do a much better job to stay clean and possibly boost my immune system a day or two before camp to prevent sickness like this past year.
[print_link]