Valerie Mendoza
Gender – Female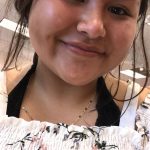 Position(s) Applying For – Junior Counselor (Open to anyone who has attended RYLA as a camper)
Year Participated in RYLA – 2019
Times You've Served as Junior Counselor – 0
Home Phone – 402.902.9105
Work Phone – [695]
Cell Phone – [683]
College Phone –
E-mail – [email protected]
City, State – Hastings, NE
School City, State – ,
Why do you want serve in the positions you've selected?
I attended RYLA in 2019. It changed my point of view how I saw things. I want to give other people the exact opportunity I had and show them how important trust is and how to work in teams even when you don't know someone that well. I also was to give campers the amazing opportunity my junior couenslor gave me. I really do hope you choose me I really loved RYLA and I want to help other experience the atmosphere
that I had.
How has your experience as RYLA participante impacted you?
I loved RYLA. It really change my perspective on how I saw things. I enjoyed building bonds that I will
Never lose. I really
Enjoyed meeting new people and learning. Ryla has changed me which I am grateful for. Ryla was my highlight of the summer. When it was time to leave it was sad. In the beginning I came in not knowing anybody but at the end I had a family.
How do you feel you can contribute and grow RYLA?
I can contribute my personality. I am very grateful for this opportunity; to come
Back to RYLA and help people experience what I experienced.
[print_link]