Rylee Schmidt Pracht
Gender – Female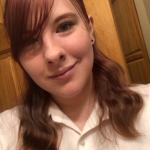 Position(s) Applying For – Junior Counselor (Open to anyone who has attended RYLA as a camper)
Year Participated in RYLA – 2019
Times You've Served as Junior Counselor – 0
Home Phone – 308.830.9639
Work Phone – [695]
Cell Phone – [683]
College Phone –
E-mail – [email protected]
City, State – Norman, NE
School City, State – ,
Why do you want serve in the positions you've selected?
I want to help campers have the best experience possible while attending RYLA. My junior counselor made my time at RYLA one that I will never forget. I would like to pay forward the time and effort that was given to me at RYLA.
How has your experience as RYLA participante impacted you?
My experience at RYLA has made me become more confident in myself. I have started to step out of my comfort zone more due to attending RYLA. Before RYLA, I would have never given a speech in front of people; however, I gained the courage to give several speeches about various topic. I plan to continue with public speaking.
How do you feel you can contribute and grow RYLA?
I feel like I can contribute and grow Great Plains RYLA in at least three ways. First, I will ensure that every camper is having an amazing time while still being safe and following the rules. Second, I'd make sure that every camper is involved in every activity. I don't want anybody to feel left out. Finally, I will do whatever I can to help not only campers but also 4H staff and other counselors.
[print_link]