Samuel Thede
Gender – Male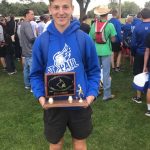 Position(s) Applying For – Junior Counselor (Open to anyone who has attended RYLA as a camper)
Year Participated in RYLA – 2019
Times You've Served as Junior Counselor – 0
Home Phone – 308.379.4781
Work Phone – [695]
Cell Phone – [683]
College Phone – 308-754-4433
E-mail – samuel.thede@spwildcat.org
City, State – Saint Paul, NE
School City, State – Saint Paul, NE
Why do you want serve in the positions you've selected?
I attended RYLA as a camper and loved the experience. I met a lot of great people and enjoyed seeing myself and everyone around me grow into better people. I would like the chance to lead a group and help them to grow the way my counselors helped me. I believe I can build upon my experiences at the camp and help campers to do so as well.
How has your experience as RYLA participante impacted you?
My experience at RYLA showed me what it meant to be a true leader. It showed me how putting others above yourself is the best way to exhibit leadership. The social skills and leadership capabilities I acquired at RYLA will serve as building blocks through my experiences throughout the rest of my life. RYLA helped me to gain lifelong friends that I still keep in touch with today. RYLA impacted me by motivating me to join my local Interact Club and I will eventually join the Saint Paul Rotary Club. The things I experienced at RYLA will stick with me for the rest of my life and I hope to provide the same experience to the campers of 2020.
How do you feel you can contribute and grow RYLA?
The counselors I had at RYLA showed great ways of how to help others grow as well as help themselves grow. I would like the opportunity to show my skills by being a junior counselor and showing the 2020 campers that RYLA is a great experience and it is a great opportunity to come back as a counselor. I feel that in following the footsteps of my previous counselors, I can empower campers just as I was.
[print_link]