Madalyn Houlden
Gender – Female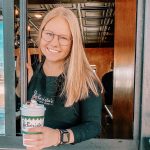 Position(s) Applying For – Leadership Team (Requires 2 years previous junior counselor experience)
Year Participated in RYLA – 2016
Times You've Served as Junior Counselor – 2
Home Phone – 308.224.5547
Work Phone – [695]
Cell Phone – [683]
College Phone –
E-mail – [email protected]
City, State – Kearney, NE
School City, State – ,
Why do you want serve in the positions you've selected?
I want to serve as a part of the Leadership Team because I loved being apart of it last year and being able to see the kids grow from a distance. As much as I loved being a JC I loved being apart of the Leadership Team more because I got to still help the kids but also help the JCs and guide them and see them grow as leaders too. It gave me a different perspective and seeing how the camp went last year, I feel as though I can help guide this team again and make it a more cohesive group. I still want to be able to help with picking JCs and help the camp run smoothy.
How has your experience as RYLA participante impacted you?
RYLA has impacted my life in so many ways than 1. It has taught me that vulnerability leads to a great leader and builds great rapport with others. I learned that leadership does not have a certain list of qualities that you need to have, but that the qualities that you possess can turn you into the leader that you are supposed to be. Camp built my confidence to push through whatever life throws at me. RYLA was a place that I learned that everyone has a place and has qualities that are needed in this world.
How do you feel you can contribute and grow RYLA?
I feel as though my past experiences in RYLA will help me to guide others throughout the week. My past experiences with RYLA make me feel that I would be able to give input that can help the week go smoothy and also be beneficial to everyone on the team. I would be more than excited to come back and put in the time and effort to make this week the best week for the campers and everyone else that is there, because I know how much it impacts the kid's lives as well.
[print_link]