Jacinda Hustoft
Gender – Female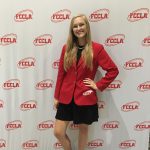 Position(s) Applying For – Junior Counselor (Open to anyone who has attended RYLA as a camper), Photographer (Open to anyone who has attended RYLA as a camper)
Year Participated in RYLA – 2018
Times You've Served as Junior Counselor – 1
Home Phone – 507.227.3006
Work Phone – [695]
Cell Phone – [683]
College Phone – 5072273006
E-mail – [email protected]
City, State – Luverne, SD
School City, State – Brookings, SD
Why do you want serve in the positions you've selected?
I have selected both the junior councilor position as well as the photographer position because I would love to be a part of the RYLA experience for a third year. I am interested in being a returning JC because I had such a great experience with mine and I was a camper and I had so much fun and learned so much last summer as a JC. As for the photography position, I served as a Communications Specialist at a camp called Minnesota Business Venture and I was tasked with taking photos during the camp as well as writing the daily blog. And as I mentioned before, I would love to continue to be a part of RYLA so either position would be amazing.
How has your experience as RYLA participante impacted you?
My RYLA experience has impacted me in many areas of my life. One of the main areas affected was my ability to lead. At RYLA, both as a camper and as JC, I was given new tools and knowledge that helped me become a more efficient leader and role model. This helped me as a councilor the following week at Minnesota Business Venture and continues to help me as I take charge in my sorority, my classes, and my life.. My camp experience has also had an impact on my social life. During the "all camp experience" as a camper and a counselor, I came to learn first hand that everyone is fighting their own demons and it has made me more empathetic and understanding. I have become more accepting of other people's differences because I realized that we are just a product of the situations we've been placed in. While in the JC position, I was forced to be vulnerable initially during the "all camp experience" in order to get my campers talking and this got me out of my comfort zone. I also made many new connections at camp both years that I have stayed in contact with. Some of these friends I believe are for life.
How do you feel you can contribute and grow RYLA?
When I was a JC, there were JC's that were returning for their second or even third years. With that experience they were able to mentor and help those of us who were first years. I would like to contribute my knowledge and experience to the incoming JC's as well as gain more knowledge of the inner workings of the camp so that when District 5160 creates their RYLA, I will be able to contribute and grow the program to something like that of the Great Plains RYLA.
[print_link]