Haylee Wing
Gender – Female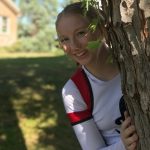 Position(s) Applying For – Junior Counselor (Open to anyone who has attended RYLA as a camper)
Year Participated in RYLA – 2019
Times You've Served as Junior Counselor – 0
Home Phone – 308.920.0613
Work Phone – [695]
Cell Phone – [683]
College Phone –
E-mail – [email protected]
City, State – Republican City, NE
School City, State – ,
Why do you want serve in the positions you've selected?
I want to serve as a Junior Staff Counselor to see the change in people. I want to see the smile on their face when they finally overcome a fear of theirs. I want to hear the laughter of the memories being made. I want to see the tears when they have to leave such an amazing experience. I want to help them realize who they are and how they contribute to their everyday life. I want to apart of the reason that helped me break out of my shell and use my voice.
How has your experience as RYLA participante impacted you?
I attended RYLA in 2019, and it has completely changed my life. RYLA showed me how to be a leader while also teaching me to listen to everyone's ideas. RYLA pushed me to get out of my comfort zone and try new experiences. I'm not afraid to speak up for myself anymore. RYLA has taught me how to become the best version of myself. I use the lessons I have learned every day and I will use them for obstacles I will endure on this long road ahead of me.
How do you feel you can contribute and grow RYLA?
I feel like I can contribute and help grow Great Plains RYLA simply because I've been in their shoes before, I know the nerves the are feeling. I know how important it is to have a Counselor that you can trust and feel comfortable leading you. I can be someone the students relate to. I am a very happy person. I am smiling almost every second of the day, I laugh more than I talk. I truly believe that attitude affects the setting. If a happy and fun attitude is in the setting, then the students will feel comfortable and enjoy the experience. I am very easy to talk to and I love to listen to what people have to say. I have a huge heart and I don't like it when someone is hurting. I know I am a person who the campers will be comfortable being around and talking to if something is wrong.
[print_link]