Gabriel Potts
Gender – Male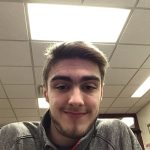 Position(s) Applying For – Junior Counselor (Open to anyone who has attended RYLA as a camper)
Year Participated in RYLA – 2019
Times You've Served as Junior Counselor – 0
Home Phone – 402.360.5748
Work Phone – [695]
Cell Phone – [683]
College Phone – 4023882440
E-mail – gpotts145@gmail.com
City, State – Hartington, NE
School City, State – Crofton, NE
Why do you want serve in the positions you've selected?
I would like to be a junior counselor at this year's RYLA camp because I really enjoyed last years camp. I want to give the next year's group the same great experience as I did and add my own special mix into this great group of people.
How has your experience as RYLA participante impacted you?
The RYLA experience impacted me greatly. It helped me become a more outgoing and compassionate person. It also helped me gain more friendships in a matter of days than I have regularly in a month.
How do you feel you can contribute and grow RYLA?
I am a great singer and I can help with singalongs and I am a very outgoing person, so I can connect with other people there easily. I also worked five years of construction with my dad so I can help construct fun activities for the kids. I am also a registered CNA so I can help if someone gets hurt.
[print_link]