Reganne Schrunk
Gender – Female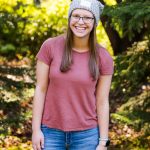 Position(s) Applying For – Junior Counselor (Open to anyone who has attended RYLA as a camper)
Year Participated in RYLA – 2018
Times You've Served as Junior Counselor – 0
Home Phone – 402.322.1779
Work Phone – [695]
Cell Phone – [683]
College Phone – 402-322-1779
E-mail – [email protected]
City, State – Valentine, NE
School City, State – Wayne, NE
Why do you want serve in the positions you've selected?
I would like to serve as a Junior Counselor for several reasons. To begin, I believe that I am a good leader. I am continuing to grow my leadership skills here at Wayne by being a part of Rotaract and multiple clubs and organizations. I think that I would be able to help the 2020 campers grow their leadership skills as well. I also feel that I would be good for this position because I believe that I would be a positive influence on my campers just as my JC was to me. If I am chosen, I am excited to build relationships with all of the campers and staff.
How has your experience as RYLA participante impacted you?
My experience at RYLA impacted me in many ways. I was very nervous to attend RYLA as a camper because I was very shy and quiet around new people. Although, I am still a little shy, it has helped me be able to step out of my comfort zone and try new things. RYLA also helped me better my leadership skills throughout the whole week of activities! I truly believe that going to RYLA helped shape me into who I am today, it was one of the best experiences I have had. I would like to share my experiences with the upcoming campers.
How do you feel you can contribute and grow RYLA?
If I am chosen to become a JC I would like to share the leadership skills that I learned at RYLA while I was a camper. I would also like to grow in my leadership skills along with helping campers grow in theirs. I think that I would also be able to bring a positive attitude as well as a helping hand. I would also contribute my hard work and dedication to RYLA 2020. I will work hard and do what is asked of me.
[print_link]