Ashley Scott
Gender – Female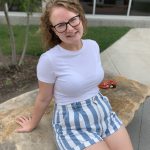 Position(s) Applying For – Activities Director (Requires 1 year previous junior counselor experience), Junior Counselor (Open to anyone who has attended RYLA as a camper)
Year Participated in RYLA – 2018
Times You've Served as Junior Counselor – 1
Home Phone – 402.802.7157
Work Phone – [695]
Cell Phone – [683]
College Phone –
E-mail – [email protected]
City, State – Grand Island, NE
School City, State – ,
Why do you want serve in the positions you've selected?
I want to serve as a junior counselor or as an activities director for RYLA 2020 because my camper year of RYLA contributed to being one of the best parts of my summer, and I want to be able to give that back to campers in 2020. Also, being a junior counselor in 2019 gave me tremendous insight on my own leadership abilities and what I can do to help others succeed. Being an activities director would be a new, phenomenal experience that I would cherish deeply.
How has your experience as RYLA participante impacted you?
My experience at RYLA has impacted me tremendously. When I feel that there is not much to look forward to, RYLA has been something to look forward to. It has taught me how to be a better leader and a better person in general. I wouldn't be the person I am today without having attended RYLA and going back as a junior counselor has humbled me and taught me how to continue on these leadership styles I have learned throughout my schooling and other activities involved in with school. RYLA has also helped me find my true inspirations and what I want to do in my future years. I talk about RYLA constantly, and on every college application I have filled out, I have spoken of nothing but gratitude and love for this camp. RYLA is not just a camp for me. It is part of who I am today.
How do you feel you can contribute and grow RYLA?
I can make a positive impact on RYLA. First, the passion for RYLA is definitely noticeable. I talk about RYLA constantly and how much it has changed my life. I can help easily contribute to the amount of campers attending in 2020. I can also help keep the campers positive and looking forward to the long days of camp. Since I am so passionate about RYLA and the experiences others will have, I will be able to positively speak about each activity to ensure that each camper is having a tremendous time. I want each camper in 2020 to have the experience that I have, where they learned many things about themselves while also learning about others, and I will ensure that by being the best guide that I can possibly be.
[print_link]