Luxie West
Gender – Female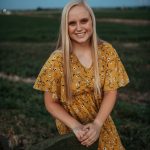 Position(s) Applying For – Junior Counselor (Open to anyone who has attended RYLA as a camper), Photographer (Open to anyone who has attended RYLA as a camper)
Year Participated in RYLA – 2018
Times You've Served as Junior Counselor – 0
Home Phone – 308.629.7673
Work Phone – [695]
Cell Phone – [683]
College Phone –
E-mail – [email protected]
City, State – Alliance, NE
School City, State – Kearney, NE
Why do you want serve in the positions you've selected?
When I left RYLA in 2018, I knew what it took to be a leader, and how to serve others with a purpose. I want to serve as a junior counselor or photographer at RYLA because I want the upcoming campers to leave camp having had the best experience while also having acquired new skills that they can use later on.
How has your experience as RYLA participante impacted you?
RYLA has given me the confidence to step out of my box and do things I wouldn't have before, solely because of the group activities that took place during camp. I have recently applied to be an RA, which I never would have done if I had not had attended. This camp helped build many skills of mine including leadership, social, teamwork and many others that have helped me transition into my freshman year of college. I still keep in contact with my senior counselor, and many of the other campers that attended the same summer I did. This camp goes beyond the expectations that are attached to it, as you do walk out with countless new relationships and stronger skills.
How do you feel you can contribute and grow RYLA?
I can contribute to Great Plains RYLA and help it grow by using the qualities that I have acquired throughout organizations I have been a part of and relationships that I have. Through organizations through high school and college, I have become an effective leader, which will provide a positive and efficient learning environment for the campers to be in. Through these same experiences, I have also acquired communication skills which will assure everyone that they can reach out and feel safe to bring their feelings or problems to my attention. I have a sense of humor that will resonate with the campers to make the camp educational, as well as enjoyable and memorable experience for them to have. All of these qualities that I have will contribute to the camp because they will create the ideal experience that the campers should have.
[print_link]